12" impulse heat plastic sealer PFS-300C PURPLE
PFS-300 impulse heat sealer PFS-300G supply Plastic hand impulse sealers from china.Heat Plastic Poly Bag Sealing Table Machine ,Impulse Sealer Seal Machine, Impulse Hand Sealer Flat Wire 5mm ,Heat Seal Plastic Bag Wrap Film Packaging,for provides durable seals for almost any sealable films and bags. Work for Polyethylene (PE), Polypropylene (PP), Polyvinylchloride (PVC), Polyurenthane, Polyolefin, Pliofilm, Kel-F, Polyflex, Mylar, P.V.A., Tivac, Saran, Nylo and all other sealable films, bags.and sealer for PE/PP films/bags, bubble wraps etc. of different thickness Perfect for household, warehouse, supermarket to pack candy, stationery, drugs and more Provides needed heat to melt the bag material so as to seal Auto control of heating with a LED indicator An adjustable timer with 8 levels meets various packaging needs Tough ABS case with blue finish Replaceable built-in fuse with 8" long sealing performance Compact and labor-saving design Power-saving and easy to handle UL approval. Highly reliable, and durable Sealing length up to 20". Can seal up to 6 mil (600 gauge) thick film. Provides excellent air & watertight 5mm wide seal, stronger than 2mm wide seal Absolutely trouble free. Satisfaction guaranteed. Zhejiang Tianyu industry Co. Ltd specializing in manufacture of manual impulse sealer,pedals stamping sealer,sack closer, hot air gun, hot melt glue gun etc. Our products are hot sell in the worldwide. For any questions,please don't hesitate to contact us.
Welcome you visit our factory !
Item No.PFS-300C purple
Product name: 300mm impulse heat sealer / 8" manual handy sealer for plastic bag, karft etc.
Sealing size:300mm*2mm
Color:Purple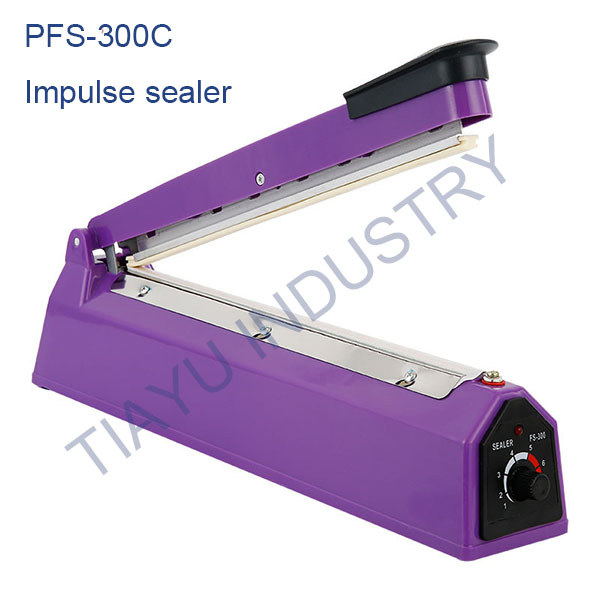 Many size of hand impulse heat sealer available :
| | | | | | | |
| --- | --- | --- | --- | --- | --- | --- |
| Model No. | PFS-100 | PFS-150 | PFS -200 | PFS -250 | PFS-300 | PFS-400 |
| Impulse power | 150W | 220W | 300W | 350W | 400W | 600W |
| Max sealing length | 100mm | 150mm | 200mm | 250mm | 300mm | 400mm |
| Max sealing width | 0.3mm | 0.3mm | 0.3mm | 0.3mm | 0.3mm | 0.3mm |
| Max sealing time | 2.0mm | 2.0mm | 2.0mm | 2.0mm | 2-3mm | 2-3mm |
| Hearing time | 0.2-1.5S | 0.2-1.5S | 0.2-1.5S | 0.2-1.5S | 0.2-1.5S | 0.2-2S |
| Weight | 1.4KGS | 1.5KGS | 1.6KGS | 1.7KGS | 1.8KGS | 2.0KGS |
| QTY/CTN | 20PCS | 20PCS | 10/20PCS | 10PCS | 10PCS | 10PCS |